The city's best wedding photographers
Geschrieben am 15. May 2014
The world needs good wedding photographers
Imagine: you are getting married, but on the day of your wedding it's raining cats and dogs. It may be a bride and groom's worst nightmare, but the probability for rain on your wedding day isn't astronomical. You can either fret about the possibility or hire a photographer who knows how to save the day; in short, do what Kay and Nina did.
Your plan was perfect, but the weather is not on your side?
You've thoroughly planned your wedding right down to the smallest detail, you've booked a wedding photographer for outdoor photos and everything's about to fall through because of the weather. Because their wedding was threatened by dark rainclouds, this bride and groom simply decided to relocate their photoshoot to Paris. Whether by plane or by train, the city of love is only a stone's throw away from the UK.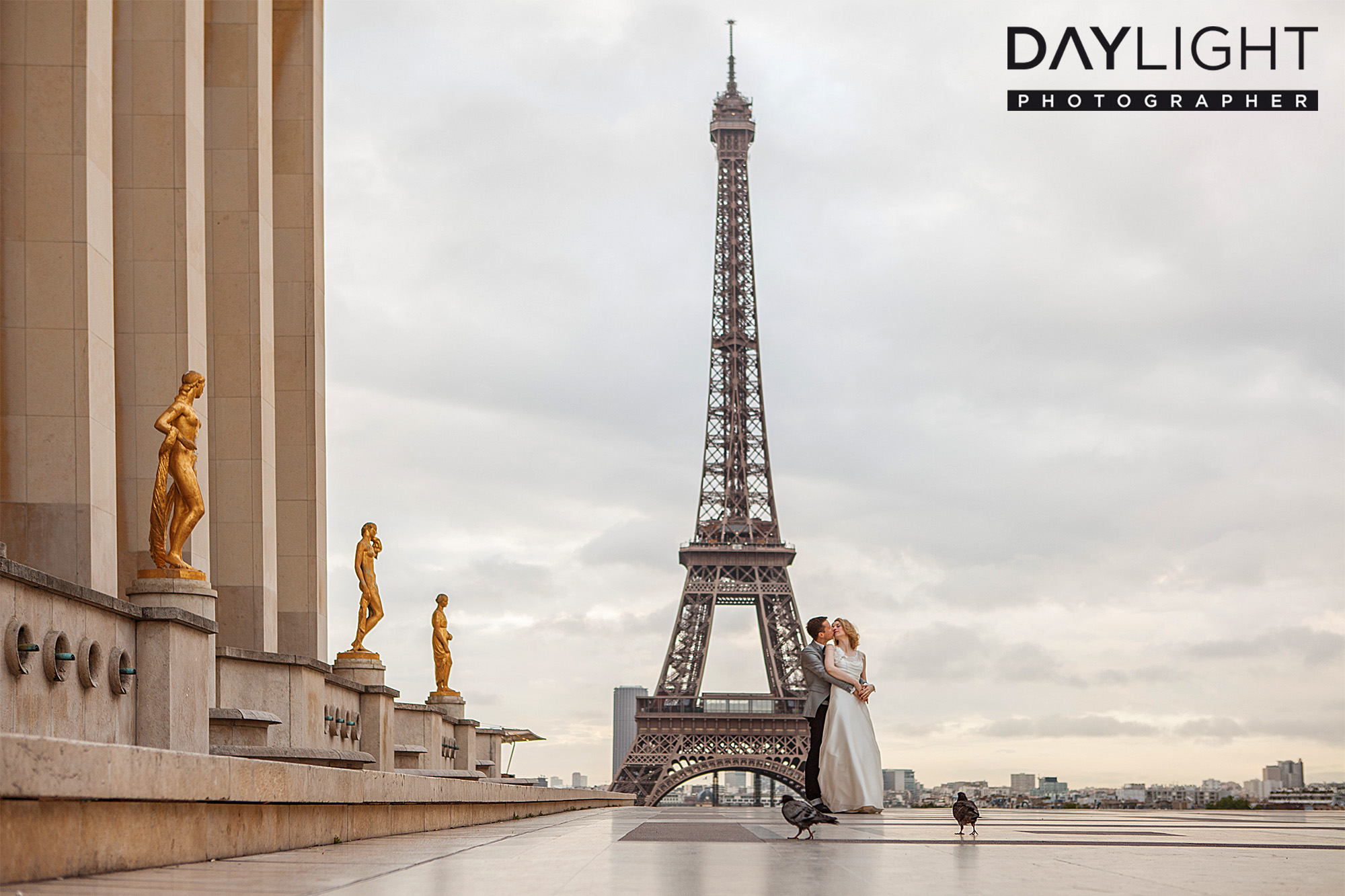 With Daylightphotographer, finding a wedding photographer was an easy task. Their wedding outfits and an umbrella (just in case) in tow, they hopped on a train to Paris. Their photoshoot got started after a short talk with the wedding photographer. During 1.5 hours, he photographed them on the place du Trocadéro, in front of the Eiffel Tower and on the banks of the Seine in Paris.
Pictures taken at the place du Trocadéro are especially beautiful because it lies on a hill overlooking the Eiffel Tower. During the day it is crowded with tourists, but our wedding photographers know the best angles to make it look like you were the only people there.
At the banks of the Seine the wedding photoshoot quiets down a little. A light breeze ruffles the bride's hair and makes for a very dynamic wedding picture. As a bonus, our wedding photographer took the bride and groom up to the well-known Pont de Bir-Hakeim, famous for its appearance in numerous films and fashion and perfume advertisements.
This wedding photoshoot was casual and relaxed, not only thanks to our first-rate wedding photographer but also thanks to a wonderful bride and groom. They were overjoyed at taking home so many stunning wedding pictures from their wedding photoshoot in Paris.
If you'd like to make your memories last, book your own wedding photographer for a photoshoot in Paris now.
[booking type=5 bookingselect label='Wähle Dein Shooting Ort aus:' nummonths=2 ]
---
No reply for "The city's best wedding photographers" available
---