A wedding proposal in Paris
Geschrieben am 10. May 2016
Many women dream of a wedding proposal in Paris, the city of love. Daylightphotographer helps you realize and document this dream!
If you want to get married, you'll have to think about the proposal at some point. A proposal or an engagement is nothing compared to a wedding, of course, but it's still a very important moment in the life of a couple. Most of the time it's an emotionally charged surprise. Paris is known as the city of love, and the Eiffel Tower is the perfect backdrop for a romantic proposal!
To surprise your partner with a proposal, just plan a trip and a photoshoot in Paris. If you live in Europe Paris is only a stone's throw away!
Daylightphotographer offers couples photoshoots in Paris
Most people decide to have their photoshoot in front of the Eiffel Tower, a classic photoshoot backdrop. If you want to keep your proposal a surprise, just disguise it as an ordinary couples photoshoot. Your photoshoot will begin early in the morning, 30 to 60 minutes after sunrise, before tourists flood the streets. You'll meet your photographer at Trocadero, with a magnificent view of the Eiffel Tower bathed in the golden morning light and accompanied by trilling birdsong. This is the perfect scene for your wedding proposal.
Your photoshoot will last about one and a half hours. After roughly fourty minutes, your photographer will melt into the background and leave the stage to you. Propose to the love of your life in front of the Eiffel Tower and never forget the moment that changed your life as a couple forever.
Fall on your knees, pull out the little box with the engagement ring in it and ask the question that you've both been waiting for: "Do you want to marry me?" … "YES!" There's no better place to put a ring on it than the Eiffel Tower.
For a moment, the earth stops turning. As the sun climbs higher in the sky, tears of joy start to fall. You won't ever forget this, and you'll have pictures to remember it by. Our photographer will document every hug, every kiss, the joy that you both share under the Eiffel Tower, looking forward to a new era: your engagement and your wedding.
Such a beautiful moment! You'll always remember Paris as the place where you forged a life-long union.
Tears dry quickly under the Parisian sun, and luckily the makeup was waterproof. The photoshoot continues on the banks of the Seine.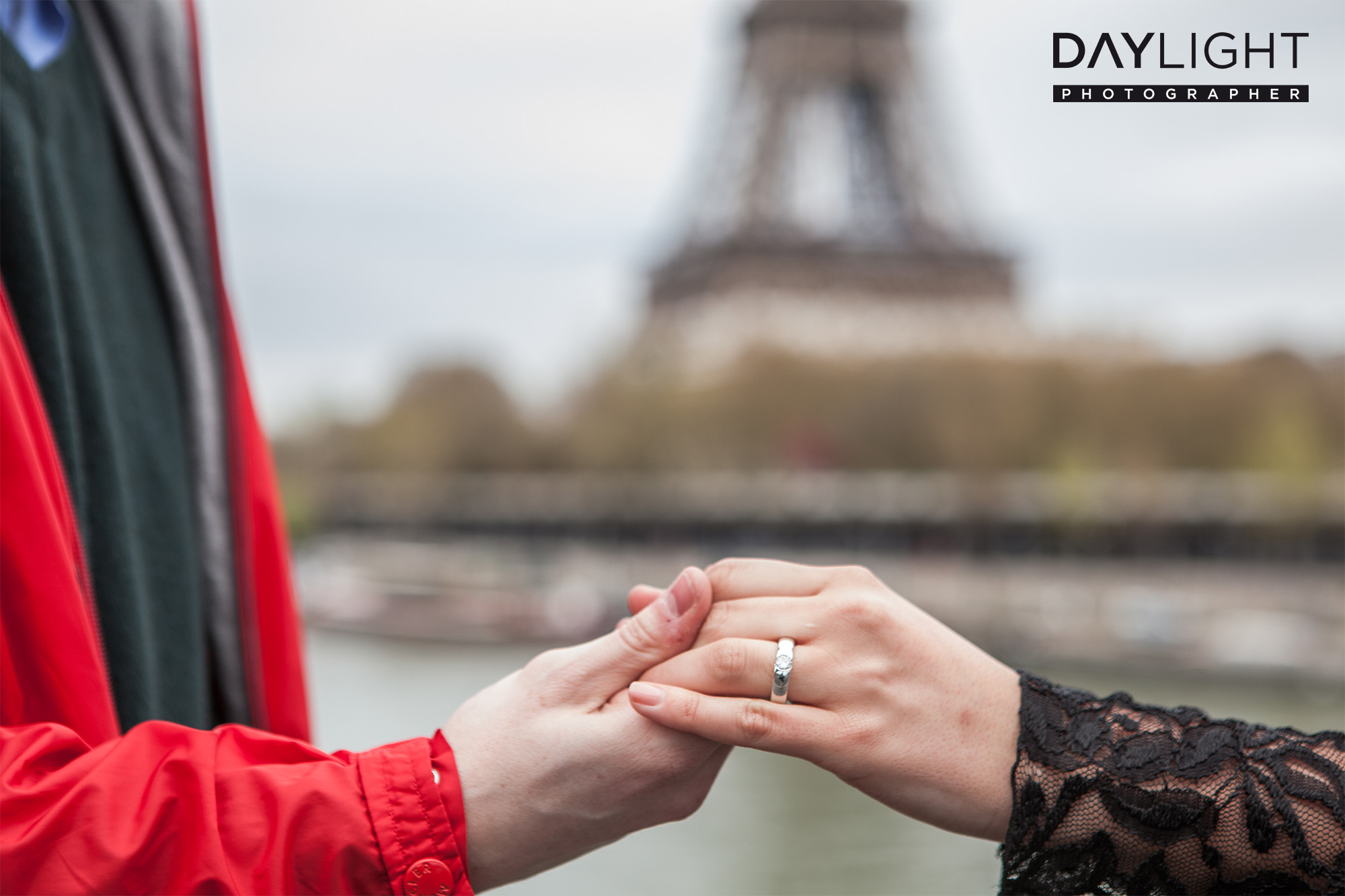 Wuld you like us to document your proposal in Paris? Book your photoshoot right here!
---
3 reply "A wedding proposal in Paris" available
11. May 2016 (15:39)

[…] Early in the morning the banks of the Seine are quiet. The shadow of the Eiffel Tower wanders along the quay, while the waters of the Seine flows peacefully by. This is the perfect location for a marriage proposal in Paris – but that's a story for another time. […]

19. May 2016 (16:00)

[…] would be the perfect moment for a marriage proposal, but most people either forget the ring at home or don't even think of proposing. Come on […]

22. May 2016 (11:10)

[…] is the city of love, thus it's also the city of proposals. People from all over the world come to Paris to ask their partner to spend their life with them! […]
---